Scott's London Marathon - Part Trois!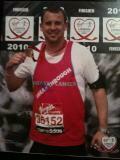 182%
£3,649 £2,000 target
This is the 3rd year running (excuse the pun) that I am doing the Virgin London Marathon to raise money for 'Breakthrough Breast Cancer'.
As you may be aware, my wife Kim, lost her darling Mum to this awful disease and, in her memory, I am aiming to run 10 marathons in 10 years.
I know we are in a recession and the everyone is skint, however, if you could find a few quid to donate, every penny will go to Breakthrough via Josephine's Crocus Tribute fund to enable the charity to continue their superb work in finding a cure and better treatments for this appalling disease.
Thank you all for donating - and a huge thanks from all the Giddings family.
Cheers
Scott
Holly Giddings Event organiser
Activity