In memory of
Sharon Webb
1969 - 2021
So far we have raised
£2,465.00
Sharon was first diagnosed with breast cancer in 2011 and again in 2015. She responded well to treatment on both occasions and continued to live life to the full as she always had. She was sadly diagnosed with secondary breast cancer in December 2019 and passed away peacefully with her family by her side on 24 March 2021.
Sharon was a remarkable woman, genuinely loved by everyone that knew her. She was unfailingly kind, loving, generous and supportive and remained positive throughout the considerable challenges she faced. She has often been described simply as a "beautiful soul".
We know that Sharon would want some good to come out of our devastating loss, and think it is only fitting to raise money which funds research into breast cancer and cares for those affected by this terrible disease.
It would be wonderful if you could make a donation, light a candle, leave a message or upload a photo so that we can all share our memories of Sharon - a much loved wife, mother, daughter, friend and colleague who will be sorely missed.
Activity
£30.00
30 April 2021
Andrew Bushell and family
£20.00
29 April 2021
Leah, Andrew, Stanley and Dora x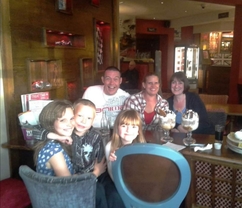 £25.00
28 April 2021
Dawn , Mike Etherington and Family