In memory of
Eryl Connolly
1953 - 2011
So far we have raised
£14,095.00
Eryl died from breast cancer in Sobell House Hospice, Oxford on September 4th 2011 following a short period of illness. She was amazing and brave throughout and will leave a huge hole in the lives of all who knew her.
This terrible illness affects so many women; by raising money for Breast Cancer Now, we can only hope that one day there will be a way of preventing premature deaths from breast cancer. We would like to make a positive contribution towards a charity which funds research into breast cancer and promotes awareness. Eryl supported Breakthrough Breast Cancer (now Breast Cancer Now).
We have created this page to help raise money for Breast Cancer Now. Please consider making an online donation or, if you prefer, you can help us raise money for this Tribute Fund by creating an online sponsorship page to mark a special event or occasion which can be linked to this fund.
Please write in the visitor's book and tell other people about this service. We have added the tribute read at Eryl's funeral in the journal below.
Thanks you all for your love and support.
If I should go before the rest of you,
Break not a flower, nor inscribe a stone,
Nor, when I am gone, speak in a Sunday voice,
But be the usual selves that I have known.
Weep if you must, parting is hell,
But life goes on
So...sing as well
Eryl
My beautiful big sister was born on 16 August 1953 in Rossett, North Wales to David and Beryl Williams. She was Welsh and proud of it – and Welsh was her first language.
The black and white photos of the time show a delightful little girl with curly black hair and a smile to make your heart melt. That smile never changed.
My brother was also born in Wales but by the time I came along, work had taken our family to England. We moved from Swindon to Stoke Gifford near Bristol and the three of us attended the village school. Eryl was a princess in the school summer pageant in the last year of primary school and then moved up to Filton High School.
We moved to Reading in 1966 and she went to Kendrick Girls' Grammar School which had an established reputation, even at that time, for sciences. Eryl had a natural aptitude for science and Maths and did well. She also had a very practical side to her nature and excelled at sewing and needlework.
Eryl wanted to be a teacher and gained her teaching qualification at Crewe before taking a course at Keele university where she earned her degree. I know she enjoyed being at Crewe - but not so sure that she enjoyed the degree course so much because she was studying Drosophila – a particularly disgusting sort of fly – and she hated all flies!
Her first teaching post was in Birmingham and that is where she met Maurice, who I thought was a look alike for Steve Harley from Cockney Rebel. That was a very good thing in my 18 year old eyes!
They married in April 1977 and one thing I am sure of is that their devotion to each other never wavered. David and Carys were born in 1980 and 1982. They were beautiful babies and they still are. Eryl was so proud of all that they achieved.
They moved to Middle Barton in December 1983, although Eryl was sad to leave behind a group of good friends who were also recent mums.
Carys and David (till the age of 8) both went to school at Middle Barton where Eryl taught. Eryl had very fond memories of her many years of teaching at Middle Barton school. She was an amazing teacher – I saw her with my children and how she made them look at the world differently, with wonder and an enquiring mind. She set up a school garden which was featured on TV and worked hard to encourage proper thought and manners.
She joined in village life and made many good friends who are here today. It is more than worth saying that there is a group of families in Middle Barton who she adored and who adored her in return - Eryl regarded them as her extended family. Being part of Middle Barton Drama Group was a joy to Eryl. She had many diverse roles over the years but she will be best remembered for her 25 year gig as the panto fairy. She had wry humour which suited her well both on stage and in real life.
Eryl and Maurice moved to Woodstock in 1993. Again she joined in and volunteered to work in the water meadows behind their home and became part of the Methodist chapel, here in Woodstock, which was an important part of her life.
Eryl particularly enjoyed life in the last few years since semi-retiring in 2008. In fact, I think she was busier than ever! Eryl and Maurice managed to do a bit more worldwide travelling which she loved although I did get one travel log email saying she now knew more about the American civil war than a woman her age really needed to know.
Eryl moved into supply teaching and felt particularly at home in William Fletcher school. She mentioned to Maurice on numerous occasions that it was a wonderful school and all the staff were "absolutely lovely". The fact that a certain Mrs Umney was teaching year 2 at the school possibly had a lot to do with her affection for it.
Another role that she took on in recent years and enjoyed enormously was that of assistant registrar. She took to this like a duck to water. It is debatable which aspect of the job she enjoyed most. The work itself or the onerous task of " just having to" buy an extensive wardrobe of outfits so that she would look the part. Two highlights for Eryl were registering the birth of Callum James Adkins and officiating at the wedding of Thessa Madden and Jim Ellis just a few months ago.
When I think of my sister the words that come to mind are positive, though she was no angel – she could be a bit bossy.
Loving, giving and generous were the first words in my head. Eryl showed love and care in many ways. She was gifted with her hands and made things – many people here today will have had a hand made card, a picture, a baby jumper or necklace that she made. She wasn't afraid of saying I love you but she never had to say it often because we knew. She loved wisely and well as her family, friends and colleagues will know.
Fortitude and strength were also words that came straight to mind. Eryl had an accident when she was 13 which resulted in a hip replacement in later life. Before the op she was in a lot of pain but rarely mentioned it. She learned young that complaining changes nothing.
In November 2006, Eryl was diagnosed with breast cancer – cancer is a careless thorn that strikes where it will without thought. She was matter of fact and got on with treatment and she was the strong one when I was diagnosed with the same invasive cancer almost a year to the day later. She helped me so much and I know that she has provided support to friends who have had a similar experience.
Steadfast and loyal – if Eryl cared about you, you knew it. She was not someone who walked away, never a fair-weather friend.
Eryl was someone who gave more to life than she took. I looked up the meaning of her name – which I had thought was seeker – the meanings I have found are: a place of outlook, watcher, wanderer and guardian. I think the last one suits Eryl best – she cared and she will watch over us. In the days that follow I hope you will hold Eryl, Maurice, David and Carys close to your heart and smile when you think of her as I do. Also think of my Dad and brother – they are now being bossed around by Eryl – situation normal…
My beautiful sister.
Carys Connolly Fund holder
Activity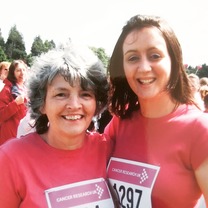 London Marathon
2 October 2022
£1,925.00 raised so far
Event details
Afternoon Tea
6 August 2017
£4,495.00 raised so far
Event details