In memory of
Emma Pearce
1977 - 2017
So far we have raised
£96,854.78
Emma was first diagnosed with breast cancer in August 2014. Just one year later Emma was diagnosed with secondary breast cancer and on 8th August 2017 Emma died at home surrounded by those she loved and those who loved her.
Emma was so incredibly brave throughout. She was utterly determined to carry on living as normal a life as possible for as long as possible; which due to her remarkable spirit she achieved right up until the end. Emma simply radiated joyfulness and was the life and soul of any party. We shall all miss her get-up-and-go attitude to life enormously.
One of Emma's last wishes was to raise money for a charity which funds research into breast cancer and promotes awareness of this disease. We have created this Tribute Fund to honour Emma's wishes. By raising money for Breast Cancer Now we hope to fulfil their aim of a future where no one dies from breast cancer.
It would be wonderful if you could make an online donation or light a candle for Emma or consider an event or occasion which can be linked to this Tribute Fund.
Please also feel free to leave a message or upload a photo so others can share in your memories of Emma.
Activity
3 Peaks Challenge Menopausal Madness
1 July 2023
£50.00 raised so far
Event details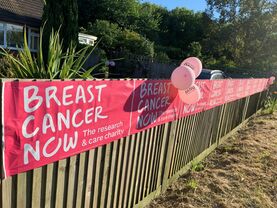 Afternoon Tea Garden Party
1 July 2023
£125.00 raised so far
Event details