In memory of
Betty Willmore
1940 - 2019
So far we have raised
£425.00
Our Mum Betty was a wonderful, beautiful, caring lady, a more positive upbeat happy person you could not meet.
Mum battled against her breast cancer bravely over the last two years. She absolutely loved life and living it. Even in the darkest of times she could see the positive and bounced back time and again.
Mum loved nothing more than having sunday dinner surrounded by her family. She was immensely proud of both of us girls, Linda and me, our Dad Bill (Wigs to Mum) who she loved with all of her heart and her two amazing grand children Keely and Dexter.
We will miss her so much but she will live on in our thoughts and our hearts every single day. We will all remember her positivity and her beautiful smile.
Dreena Sampson Fund holder
Activity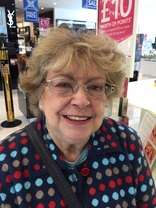 £120.00
25 May 2019
Family and friends donations