In memory of
Beth Hooper
1978 - 2022
So far we have raised
£6,830.01
Beth sadly fell asleep in February of 2022, at the age of 43.
She was a beautiful, amazing person and a hero to me in many ways, I am her husband, Stuart.
She was diagnosed initially with Breast Cancer in late 2015 and then with Secondary Breast Cancer late in 2019.
Beth was never a victim and beat every prognosis she got, she was very determined. She was always worried and cared about others constantly.
After her first diagnosis, we both became volunteers with Breast Cancer Now (or Breast Cancer Care as it was back then). She was helping others that had been in her position on her day off. Beth was always helping others. Between us, we worked out we'd raised over £11K and knew we needed to raise a lot more too. She completed the Pink Ribbon Night time walk through London with her amazing friends.
She loved cheese and tea, very much at the top of her list! She loved Musicals and the Killers/Foo Fighters/Ben Folds, her favourites.
An avid parkrunner and volunteer, she always got a pb (annoying in a nice way for those who run). She was always happy when she sung and danced, not many people got to see her do that, but I was fortunate to witness and join in many, many times.
She loved her friends and family, especially her nephew (who she only got to meet a few times, but loved him a lifetime through) and of course, her protector, our gorgeous Cocker Spaniel.
I would like to keep raising money in memory of Beth and will hope to do this by this page. Any events can be added and a donations can be added any time. Please give what you can if you can.
Stuart Hooper Fund holder
Activity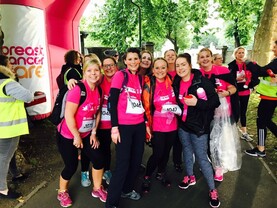 Beth's Memory Walk 2023
10 June 2023
£4,090.01 raised so far
Event details
30 March 2023
Hannah- In Memory Team, Breast Cancer Now